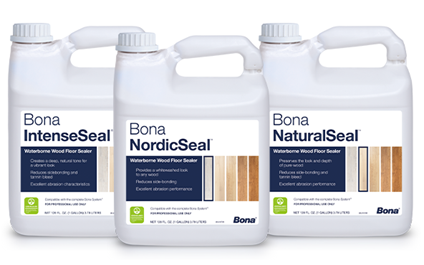 If you are interested in going with a lighter shade of hardwood floors in your home, ditch the stain and opt for a waterborne sealer. Sealer is applied after all of the sanding is completed. It seals and protects the hardwood and also determines the look of your floor.
Once your sealer is applied, the following coats of finish are just for added protection and durability.
Our standard sequence for finishing hardwood floors with waterborne products is:
Apply Sealer Coat.
Apply Second Coat. This coat is a waterborne finish product (not a sealer).
Buff/Screen floor.
Vacuum.
Apply third and final coat of waterborne finish.
Educating our Clients
In our professional opinion, Bona Kemi offers the best range of waterborne sealers in the world. I don't get paid by Bona Kemi to endorse their product. Nor am I a 'weekend warrior' DIYer. We are floor professionals. The only reason I'm writing this is to educate our clients. An educated customer saves us time on the job.
I'll get into the various types of sealers here. But before you get right into picking out your favorite sealer, first you've got to identify the species of hardwood floor in your home.
What Type of Hardwood Floor is in your Home?
This is the first question to answer.
All of our work is either refinishing existing floors or installing, sanding and finishing new hardwood floors. If you have hardwood flooring in your home and want it refinished, we will be working with you to figure out the available options. Certain species of wood just look better with certain sealers.
Take antique pine for instance. If you want a lighter shade floor and you have an older pine wood floor – use a clear/transparent sealer devoid of any pigment. Pine is so absorant that it really sucks up the pigment from stains and tends to go very dark. So, in the case you have antique pine hardwood floors and want them looking light and natural, we would recommend Bona's ClassicSeal.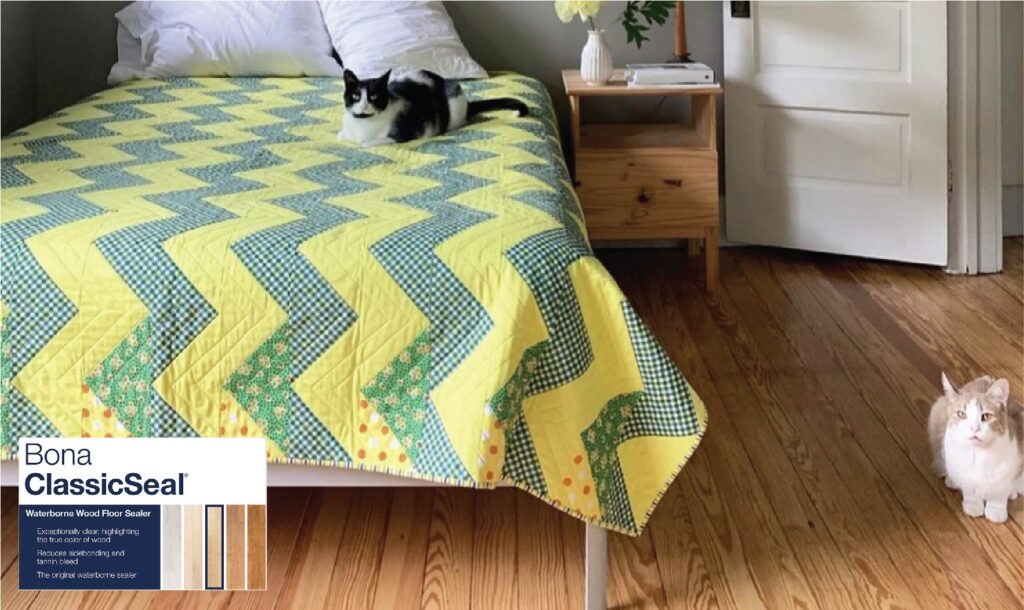 Perhaps you have red oak, white oak, maple, walnut, fir, cherry, hemlock, or ash! The possibilities are endless. It's why we'd never make a blanket statement on which sealer is the best because we are dealing with nature here.
We can only tell you what our favorite product of line of sealers is, and it's Bona Kemi's. They also happen to have a very useful display chart on each and every gallon of their sealers. After years of finishing floors, we still study this chart before every job!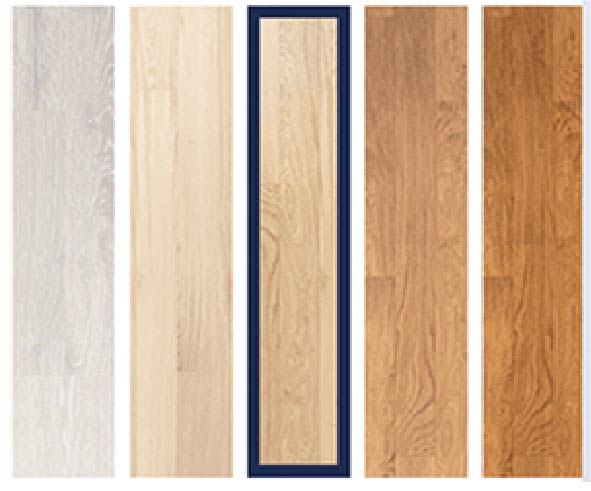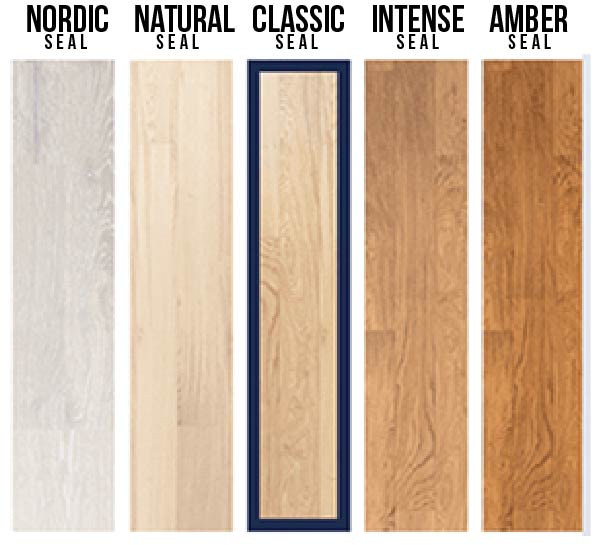 NordicSeal – The Designer's Choice
Don't judge the above simplified chart to evaluate this product. NordicSeal is a gamechanger and has become far and away Bona Kemi's most popular sealer, from our experience.
It's distinctive characteristic is the white pigment they've added into the sealer. The whiteness is not overpowering like a "Country White" stain can be. It's subtle. It allows the wood show through. In my opinion it provides just the right amount of white.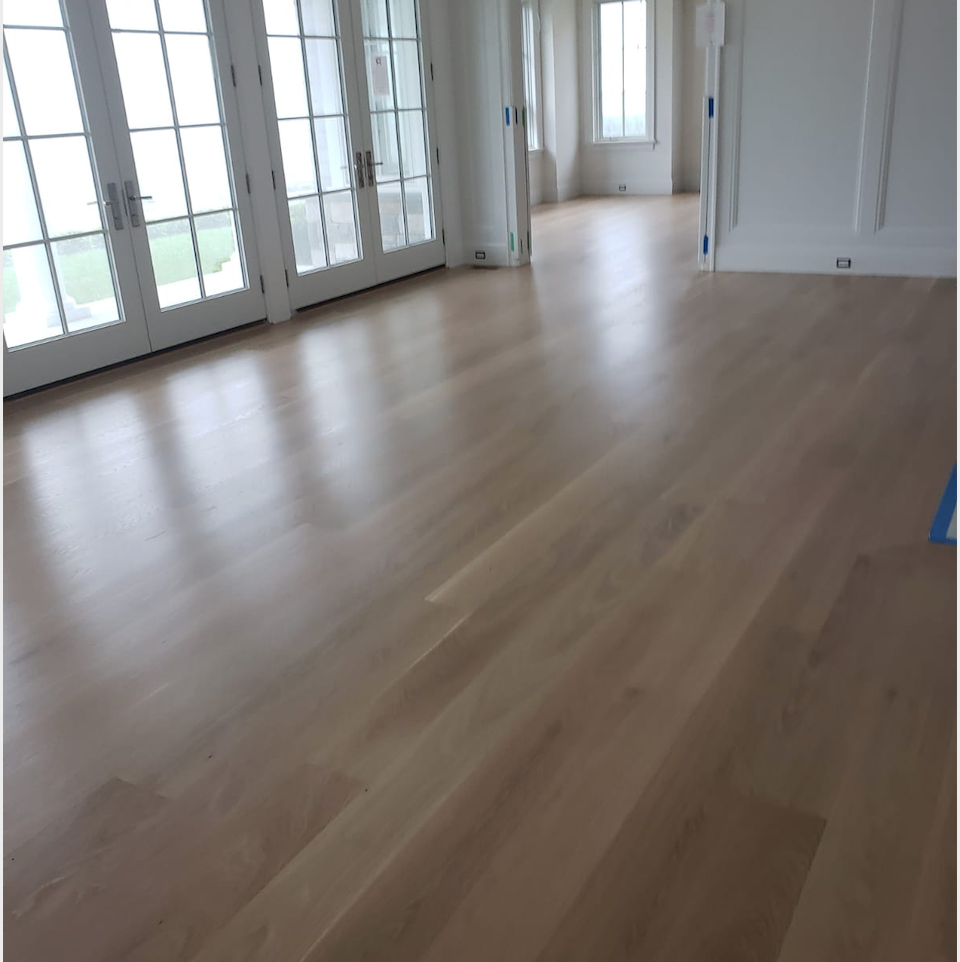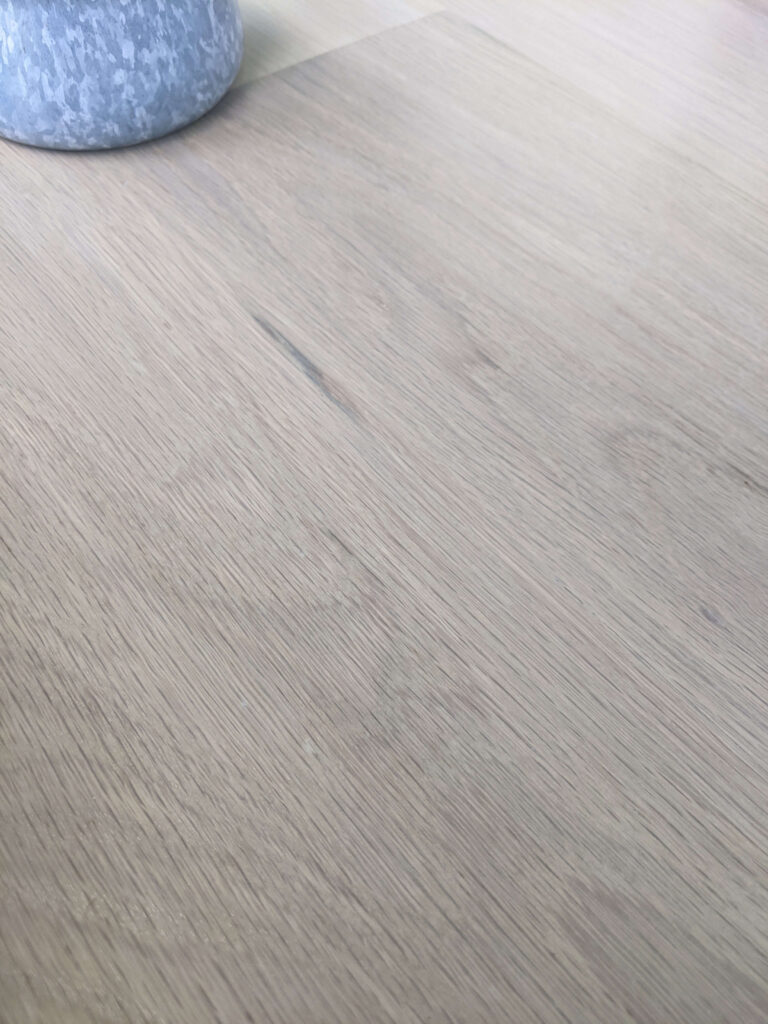 NaturalSeal – Our Touch-up Weapon
NaturalSeal is just to the right of NordicSeal on the Bona chart of sealers.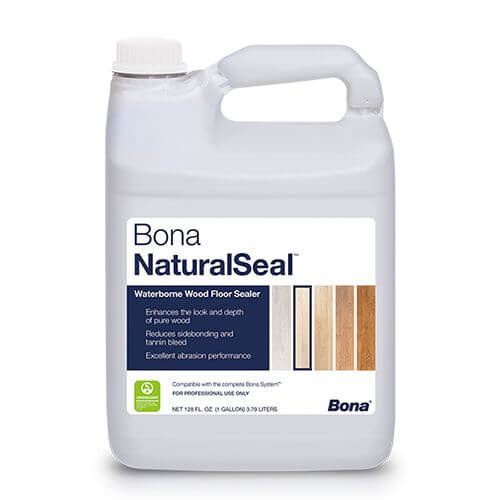 NaturalSeal has less white pigment than Nordic, but still has just a tad of white. Fun fact, we use NaturalSeal when doing touch-ups to floors we've coated with Nordic. I guess the best way to put it: NaturalSeal has a hint of white.
ClassicSeal – Our New England Workhorse
We've worked with ClassicSeal the most of all of Bona's sealers. Here's why.
It's called Classic for a reason.
A lot of the wood floors we refinish in Fairfield County CT are in older homes. These New England homes tend to have 20, 50, or even 100+ year old pine, white or red oak, fir and maple. Over the years, hardwood floors in older homes naturally build up 'character.'
Areas where rugs have laid on the floor for instance can lead to coloration differences from room to room. Gaps between planks can widen over the years. Anytime there have been 10's or 100's of years of wear on a hardwood floor, more often than not, ClassicSeal is the choice.
If you want to put Nordic on an old hardwood floor you better have the stomach for it. The white hue on the planks can contrast pretty severely with the black gaps between older planks.
Here's a look at a couple of jobs we refinished with ClassicSeal.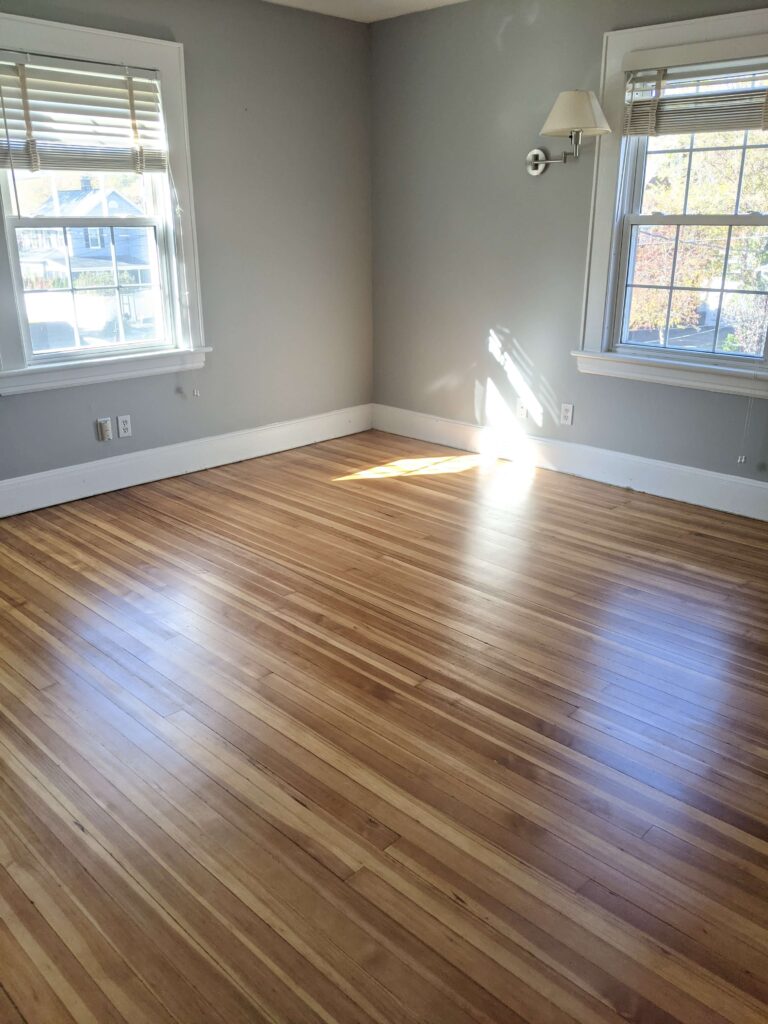 IntenseSeal – Accentuates What is Underneath it
A good way to think of IntenseSeal is that it serves to accentuate what is directly underneath it. Whether it be freshly sanded unfinished red oak or a dark stain.
IntenseSeal is one that we often use in tandem with dark stains. Let me explain.
Before the advent of waterborne finishes in hardwood flooring, the typical finishing process looked like this:
Stain the floor
Apply coat of oil poly
Buff/Vacuum.
Apply 2nd coat of oil poly.
For clients who don't want oil poly in their homes, waterborne sealer replaces it in Step 2 above. We apply IntenseSeal once the desired stain is applied to the floor. So, IntenseSeal is not a color – there's no pigment.
IntenseSeal, like it's name suggests accentuates the color of the stain underneath it. There is no pigment in this sealer, so it's safe to apply over a stain without altering the color of the stained floor. Nowadays when a client wants particular stain on their floors, we will stain it – then seal it with IntenseSeal.
If applied to a floor without stain, it will accentuate the natural characteristics of the hardwood. So for clients who are looking for the "raw, unfinished" natural look of the hardwood in their home, we'd recommend IntenseSeal.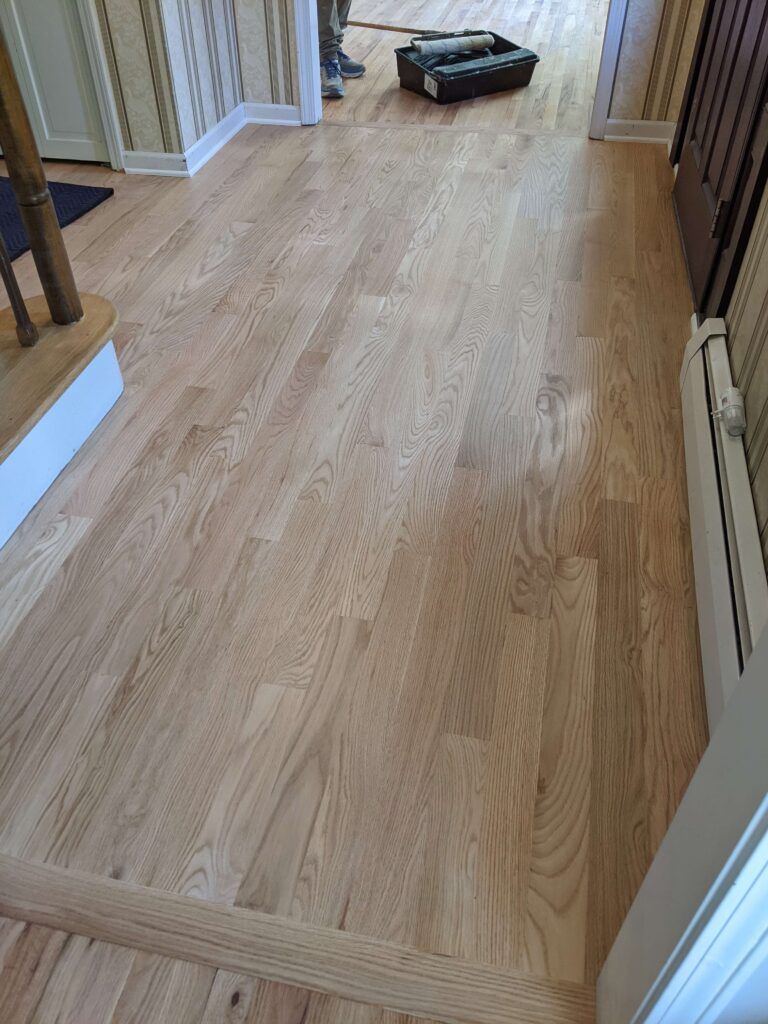 AmberSeal – Looks like Oil But it's still H20
All the way to the right on the Bona Kemi spectrum of sealers, lies AmberSeal.
Simply put, it's an oil polyurethane 'wannabe.'
It contains amber colored pigment which replicates the amber you'll see in Duraseal's oil polyurethane. There's a lot of customers who like the classic golden-y hardwood floor look. But they may not want the strong odor that comes with oil poly in your home. So they would opt for AmberSeal.
AmberSeal gives you your best chance at having the look of a classic oil polyurethane wood floor – just without the odor, dry time, and chemicals.
We recently weaved brand new red oak into a 50 year old red oak floor (a whole 'nother story). To mask the transition from old to new, we laid down AmberSeal to kind of knock-down the coloration difference. The amber color masks the white in the new wood and kind of camouflages it into the old wood. Check out the sample here to see what I'm talking about.