Our latest project was completed in a historic home built in the mid-1800's in Weston, CT. I immediately sensed the homeowners elevated style and design skills.
They managed to skillfully update this antique New England home and give it a modern aesthetic: simple and clean lines – but stay true to the antique vibe.
The final stage in their homes transformation was their hardwood floors. What made this project truly special for me was the species and quality of the existing wood floor. It is 3″ wide clear maple. After looking at some of our work, particularly with Bona Kemi's whitening "Nordic Seal", they decided to go light with their maple.
Sanding the Existing amber finish off the Maple
Here's how the maple floors looked before.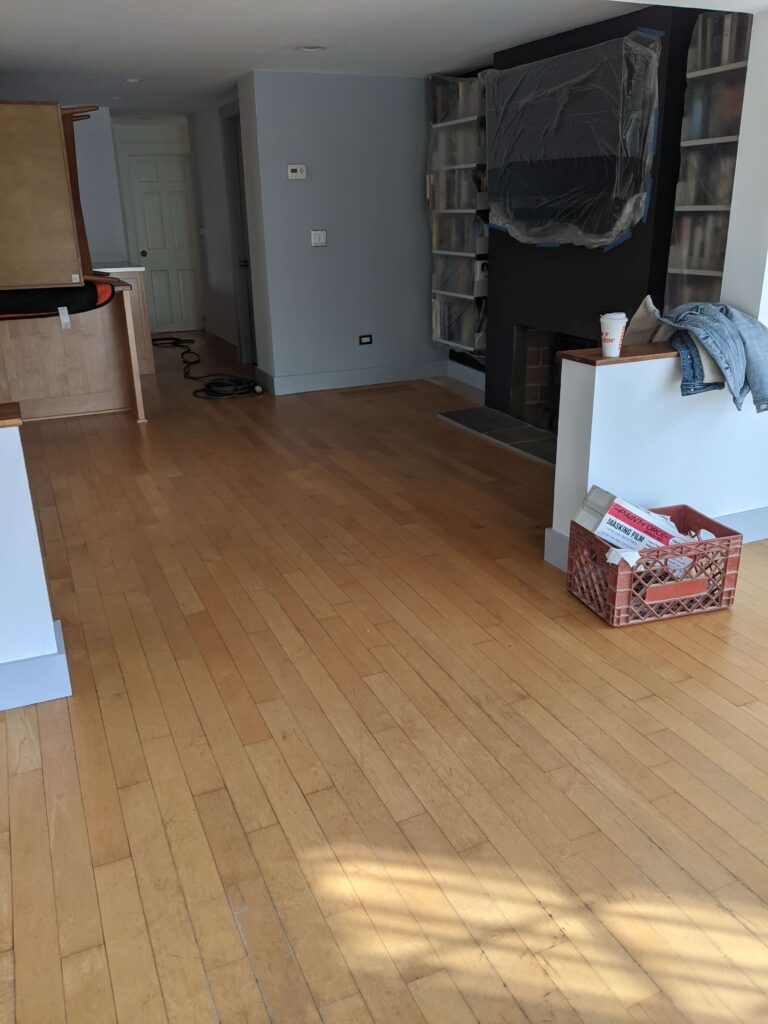 Testing out Nordic Seal on Maple
Our design conscious clients told us that they loved how the maple looked right after it was sanded, the unfinished look. The way to preserve that freshly sanded, true wood look is with the sample on the right, Nordic Seal. It adds a subtle white pigment to the mix. But it doesn't overpower the natural wood tones.
(Sidenote): I love how the homeowners here did not install shoe moulding. In my opinion, it's such a clean look!
Nordic Seal on Maple, plus Traffic HD
To modernize this timeless maple hardwood floor, we applied one coat of Bona Kemi Nordic Seal. We finished it off with the most durable protective finish on the market: Traffic HD. Traffic HD is a commercial grade waterbourne finish. It is a 2 component mixture that hardens and provides a protective layer unlike any other one component finishes.
Here are some "after" pictures of this modern looking maple floor.