Our latest job turned into one I would put in contention for our coveted Floor of the Year™️ award.
It all starts with the wood. The home was recently purchased by a new homeowner in Weston, CT. The 'bones' were very good and well built. The existing hardwood floor was a 6.5″ wide select/clear red oak. What made it truly unique were the incredible board lengths. Single planks ran up to 17′ long.
The floor was in good shape but the color was what you'd expect from an amberized oak floor. The last time it was refinished was likely 15 years ago. The amber had to go, so we started consulting with their interior designer on colors.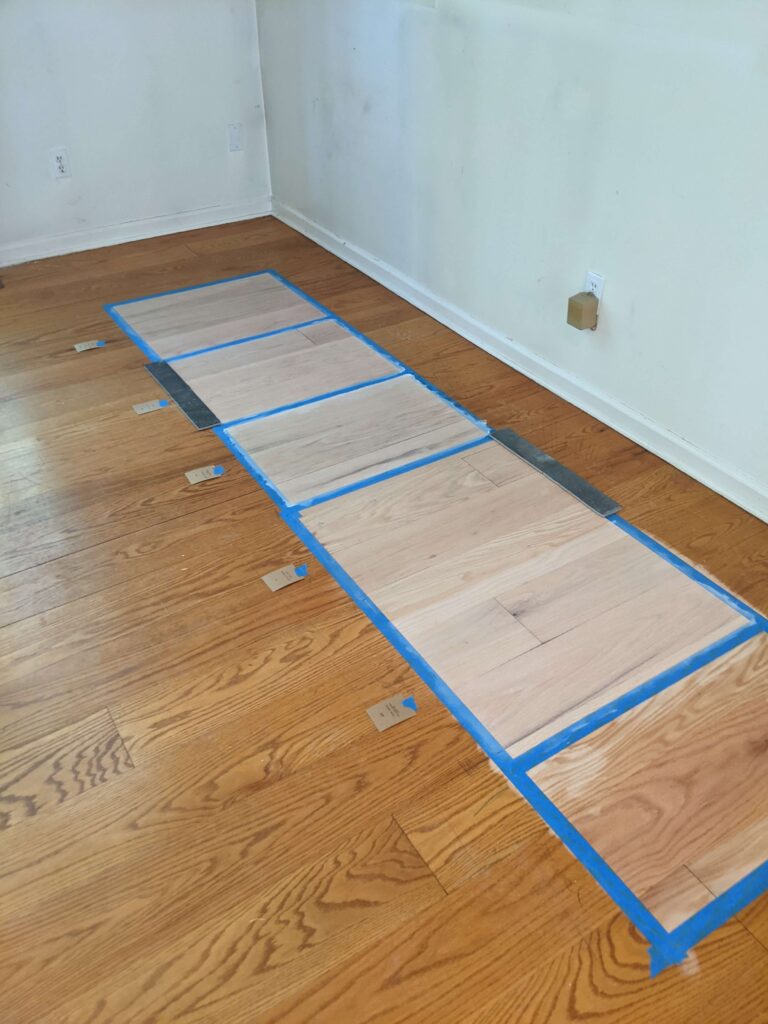 Adding White to Red Oak Floors
The interior designer asked us to bring some white coloring to the mix. We went thru all the options that come with turning red oak floors into a more scandinavian white-washed wood floor.
The sample process was pretty in depth.
Above you can see some of the options that included, bleach, bleach + white penetrating oil, invisible waterbase, and last but not least, Bona Kemi's flagship product – NordicSeal (2nd sample from the right).
NordicSeal is not a penetrating oil. It's a waterbourne polyurethane. The manufacturer, Bona Kemi, got just the right amount of white pigment added into NordicSeal. When applied it's sits atop the wood floor, settling a bit in the grain of the oak. We call it a film forming finish.
The designer chose NordicSeal and she couldn't have made a better choice.
I have to add that the reason NordicSeal worked so well on this particular floor was because of the grade of the red oak. It was basically clear, just one step above select and better. The boards weren't busy with very prominent grain which has a tendency to dominate the subtle NordicSeal finish. The clarity of the boards allowed the sealer to do it's whitening thing.
In addition to refinishing their existing red oak, we installed new red oak in their kitchen and sunroom. We went with select and better 5″ and it certainly worked well.